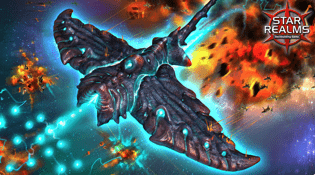 Star Realms
(2 players; 20 minutes; ages 8+)
Star Realms is the most elegant deck-building card game with easy rules, stunning art work, and quick play time.  Scoring requires students to subtract, but as always you're going to play this game because it is outstanding – not because of the mathematical skill acquisition or practice.  The game incorrectly suggests an age 12+ but it can be taught to children aged 8+.
Star Realms is MathPickle's Game of the Year for 2015.
One of the things that ultimately led me to leave mathematics and go into political science was thinking I could prevent nuclear war.
Paul Wolfowitz