Social problem solving through puzzles and board gaming is a fun way to inspire young people to think.
Each week your young person will be introduced to a different puzzle or board game. The focus will not be on winning or losing, but on fun problem-solving in a social setting. Each class is self-contained so you can join any time.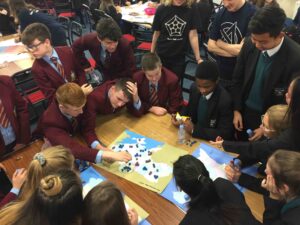 Your host: Gordon Hamilton is the father of two teenagers, the founder of MathPickle and the designer of board games like Santorini.
Dates: Thursdays from January 13 to June 26th 2022.
When: 4:00 pm PT; 7:00 pm ET.
Length: Each class will last 45-55 minutes.
Link: The zoom link will be emailed to you prior to each class.