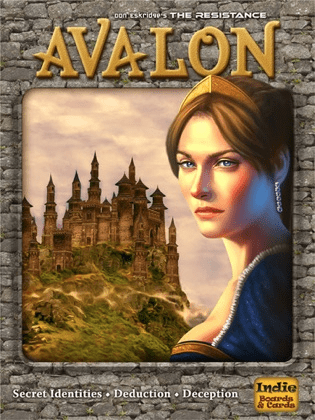 Avalon
(5-10 players; 20 minutes; ages 9+)
Avalon is the best game for 5-10 players.
Just less than half of players are secretly part of the evil team.  They know who they are, but the good players are mostly in the dark.  It is fast to play, and a real winner with many non-gamers.The packaging claims ages 13+, but much younger children learn about bluffing relatively fast, and a large fraction of 9 year olds that I've played this with have rated it their favourite game. It is good both for those who like pure deduction and for those who are experts at reading people's faces.
One MathPickle amendment: Things can get pretty busy on the table top, so instead of playing accept and reject cards – experiment with thumbs up and thumbs down after a count of three.
Avalon was MathPickle's game of the year in 2014.
Men are liars. We'll lie about lying if we have to. I'm an algebra liar. I figure two good lies make a positive.