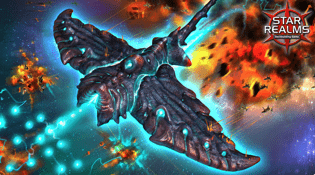 Star Realms
(2 players; 20 minutes; ages 8+)
Star Realms is the most elegant deck-building card game with easy rules, stunning art work, and quick play time.  Scoring requires students to subtract, but as always you're going to play this game because it is outstanding – not because of the mathematical skill acquisition or practice.  The game incorrectly suggests an age 12+ but it can be taught to children aged 8+.
The sequel game, "Star Realms: Colony Wars" adds a lot of complexity and has some irritating cards whose abilities only apply once, but beginner players will find themselves reading them again and again by accident. Not recommended.
The 2018 release "Star Realms: Frontiers" is maybe a little bit better than the original. Unbelievable!
The other expansion sets sometimes add nice little features, but in general I'd stick to the original Star Realms and Star Realms: Frontiers.
Star Realms is MathPickle's Game of the Year for 2015.
One of the things that ultimately led me to leave mathematics and go into political science was thinking I could prevent nuclear war.