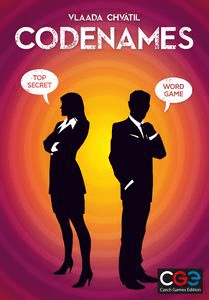 Codenames
(2-8 players; 20 minutes; ages 10+)
I am not a word game person. While I respect scrabble, it is just not my kind of game because the memory requirements are so high. It is therefore with great surprise that I am naming a word game as MathPickle's 2016 game of the year.
Codenames is a scintillating game of deduction and brinksmanship where you try to stay on the same wavelength as your team members to guess a set of words from a tableau. I cannot speak highly enough of the subtle game design elements which make this game an absolute winner. I play without a timer, but impatient players will definitely want to use the timer to put added pressure on their already beleaguered opponents.
I think the universe is pure geometry – basically, a beautiful shape twisting around and dancing over space-time.