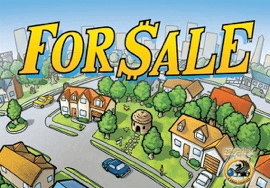 For Sale
(3-6 players; 20 minutes; ages 6+)
For Sale is one of MathPickle's recommended games for the math classroom. The suggested age is 8+ on the package – and that is correct for the unmodified rules, but the rules can be simplified to make the game fun for six year olds – and they are guaranteed to LOVE the cards as they buy and sell properties ranging from an outhouse to a skyscraper.
Modified rule #1 for age 6: The first bid must be 1. The second bid must be 2. The third bid must be 3. etc. (fewer decisions makes the game go faster.)
Modified rule #2 for age 6: In a two player version, the person who leaves the bidding first gets back all their money. Otherwise, with more than two players the parent or teacher helps round down when half the bid is lost.
Mathematics is the most beautiful and most powerful creation of the human spirit.